FIVE MOST DANGEROUS ROADS IN THE WORLD
February 26, 2018
This is the list of the five most dangerous roads in the world as per my recent online research.
These roads are indeed an almost-no-go-area for many drivers and travdellers. in as much as they may stand as sites of tourism and site seeeing, it is a nah nah dare for me, I can't try such roads on wheels.
5. The Karakoram Highway, between China and Pakistan
Named the "Friendship Highway" by the governments who built it. The Karakoram Highway is the highest paved international road in the world. It connects China and Pakistan across the Karakoram mountain range, through the Khunjerab Pass, at an elevation of 4,693 meters. It's prone to landslides and floods and to make matters worse, the road is unpaved in Pakistan. But it is still a tourist attraction, passing through some spectacular gorges along the old Silk Road. Nearly 900 workers died while constructing the road. What is often referred to as the "eighth wonder of the world."
4. James Dalton Highway, Alaska
The Dalton Highway is a 667 km road in Alaska. It begins at the Elliott Highway, north of Fairbanks, and ends at Deadhorse near the Arctic Ocean and the Prudhoe Bay oil fields. Although appearing serene at first glance, is filled with potholes, small flying rocks carried by fast winds, and worst of all it runs through the middle of nowhere. What makes this one of the most dangerous roads, is its 386 km stretch with no gas stations, restaurants, hotels, or any other basic services.
3. Jalalabad–Kabul Road, Afghanistan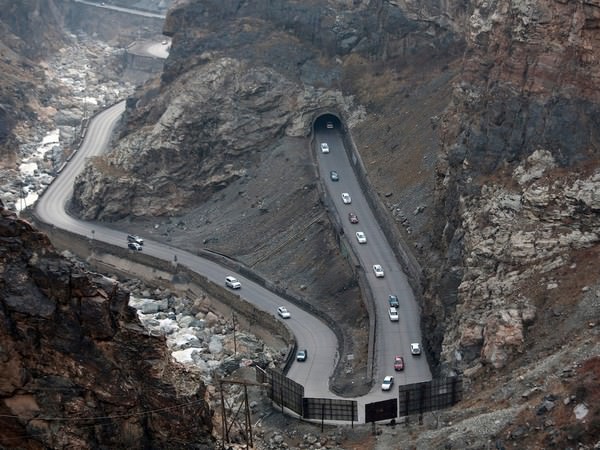 Many roads have been dubbed "most dangerous," but the 65-kilometer stretch of highway from Jalalabad to Kabul has more claim than most, snaking through Taliban territory. But it's not the threat of insurgency that makes Highway so dangerous. It's a combination of the narrow, winding lanes that climb up to 600 meters through the Kabul gorge and the reckless Afghan drivers trying to overtake the heavily-burdened haulage trucks.
2. North Yungas Road, Bolivia
Also known as the "Road of Death" in the Yungas region of Bolivia. It is legendary for its extreme danger and the Inter-American Development Bank christened it as the "world's most dangerous road". One estimate is that 200 to 300 travelers are killed yearly along the road. The road includes cross markings on many of the spots where vehicles have fallen. It is a regular occurrence for buses and trucks to go tumbling to the valley below, especially when they try passing each other.
1. Highway 1 in Florida
Florida's Highway 1 is another most dangerous roads in the world. Because of having the highest fatal crash rate, it was recently ranked the most dangerous road in the US. In fact, 1,079 people have died on the road in the last 10 years alone